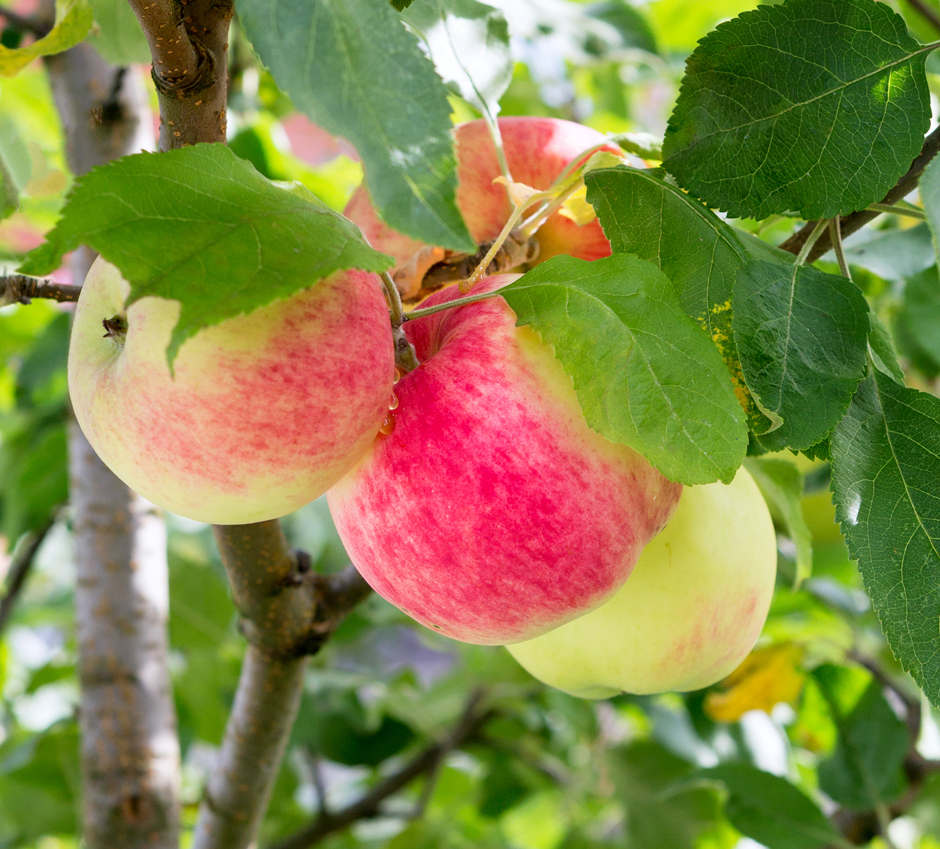 What We Grow
Apples– Arguably the most important fruit to the human psyche. Eden. Snow White. Johnny Appleseed. As American as apple pie. And on and on. Native to Kazakhstan, apples are grown everywhere except Antarctica and the Moon.
Pleasant Pond Orchard grows more than 60 varieties. You'll find New England favorites like McIntosh, Cortland and Northern Spy. We also grow several types developed by the University of Minnesota, including world famous Honeycrisp, the wonderful but not famous Chestnut Crab and the apple with possibly the worst name ever, 1734. And hard to find heirlooms such as Yellow Transparent, Connell Red and Wolf River. Whether for sauce or pies or eating out of hand, you'll find great apples here.
We continue to expand our varieties, focusing on the Heritage types. Too many wonderful apples are in danger of being forgotten in the name of efficiency. The mechanization of agriculture changed which apples were grown. Choices were made based on considerations like appearance, conformity and ability to ship. Here, we choose which apples to grow based on disease resistance, climate and whether it'll be used in a pie, cider or eaten fresh. Our most important consideration is taste. We grow apples that people want to eat.
Pears– Bartlett and Bosc. And some of the lesser-known types like Red Clapp's Favorite, Luscious, Patten and the small but wonderful Seckel. Pears grow well in Maine but aren't as popular on a large commercial scale because of storage and handling considerations. We love them because they are less susceptible to insect and disease damage. If you've ever bitten an unripe pear, you know why insects prefer apples. You can't pick pears as fast as apples and you need to be gentle moving them around or they'll bruise. Many people don't realize that pears need a long time in refrigeration because they actually ripen off the tree. Even with these extra hassles, we believe that pears are worth the trouble.
Peaches– Some people are surprised to learn that peaches grow this far north. We can't grow every variety and we do lose crops due to late frosts. Particularly harsh winters kill peach trees. Peach trees are only productive for about twenty-five years and in Maine, you're lucky to get a reasonable harvest one year in three. Still, we grow them. Bite into a peach that was picked at the moment of perfect ripeness instead of one harvested for shipping from several states away and you'll know why we bother. It's okay to moan in delight while the juice runs down your chin.
Plums– We grow several varieties of plums like Superior and Red Heart. Due to disease pressure from wild plums and cherries which carry the dreaded Black Knot, we are transitioning to Japanese varieties as we replant.
Cherries– Ever eaten a cherry pie made with filling that came straight from the tree rather than from a can? It's sublime. Sour cherries work best in pies (we eat them as we pick, they are tart but delicious). We grow a couple varieties on different rootstocks, with more planted but not yet fruiting. When we are able to protect the crop from the birds and squirrels, we get bushels of the beauties.
Berries– High bush blueberries- We grow several varieties. In a good year, we'll have blueberries to pick weekly from the middle of July until the end of September. Pop them in your mouth, put them in pies or freeze them for a winter treat. These are easier to pick than the low bush variety and quite a bit bigger.
We grow red and golden raspberries as well as blackberries. Every year we expand the berry patches. Sado, the wonder dog, gulps down quite a few every day. The wild turkeys get their share, too. We pick as many as we can for you.